Stati uniti, 1965, nasce a Milwaukee nel Wisconsin un modello che sarebbe poi diventato un punto di riferimento per gli appassionati Harley Davidson, la Electra Glide. La moto ha aperto il segmento Tourig della casa ed è da sempre un ispirazione per i modelli di questa categoria.
Il compleanno è uno di quelli importanti, si festeggiano i 50 anni del primo modello.
La famiglia touring ha avuto un forte incremento nel 1960, quando la casa ha introdotto il motorino di avviamento elettrico e successivamente con l'ingresso di un nuovo modello la FLH Electra Glide del 1965. La innovazione come sempre non è vista di buon occhio e la casa ha mantenuto comunque l'avviamento a pedale per i nostalgici che difficilmente si abituavano alle "nuove mode".
Nel 1965, il look della Electra Glide acquisì importanza con l'adozione di parabordi eleganti, sella monoposto ergonomica e borse in fibra di vetro, che in precedenza erano solo un optional del pacchetto "King of the Highway".
L'arrivo di un nuovo propulsore e aerodinamica.
Nel 1966, la Electra Glide ha iniziato ad installare il famoso propulsore Shovelhead di 1200 cc di cilindrata, ottenendo cosi un aumento della potenza del 10%, tre anni dopo gli ingegneri di Milwaukee introducono una sistema opzionale di protezione aerodinamica, meglio conosciuto come "Batwing" per via della sua forma, sistema che in breve grazie all'enorme successo riscontrato, diventa di serie sul modello, e ancora oggi è diventato un segno distintivo dei modelli di punta della famiglia tourig.
Nel corso degli anni 70 il modello si è evoluto migliorando l'impianto frenante, con freni a disco davanti e a tamburo con comando idraulico al posteriore; più tardi invece arriva sulla Electra Glide la tramissione a cinghia dentata e un impianto audio montato sul "Batwing".
Nel 1986 arriva la Electra Glide Classic e alla fine degli anni 80 il modello diventa più agile e compatto, nasce la Electra Glide Sport FLHS, senza bauletto e con parabrezza rimovibile.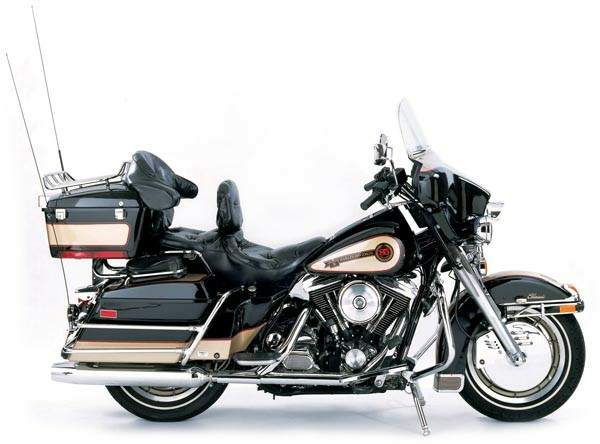 L'anniversario per il 30 anni.
Nel 1995 per il trentesimo anniversario della Ultra Classic Electra Glide, la modo diventa il primo modello ad adottare la iniezione elettronica.
Nel 2009 il modello , cosi come altri della categoria Touring di Harley Davidson, subisce un sostanziale rinnovamento, con un baricentro più basso e un aumento dell'interasse, guadagnando una miglioramento della maneggevolezza della moto.
Nel 2013, il più grande cambiamento nella storia del modello.
Il progetto Rushmore , ha introdotto in questo modello come in altri della casa dei cambiamenti sostanziali, ascoltando le richieste sempre più insistenti della propria clientela.
I miglioramenti e i cambiamenti coninvolgono:
Ergonomia dei sedili pilota e passeggero, con schienali più alto.
Batwing con un nuovo sistema per contrastare le turbolenze.
Nuovo motore Twin Cam 103 High Output  doppio raffreddamento di 1690cc, il primo della storia con raffreddamento a liquido.
Impianto frenante con ABS Reflex, che impedisce il bloccaggio e allo stesso tempo ripartisce la forza frenante su anteriore e posteriore.
Per quanto riguarda l'intrattenimento di bordo arriva un touch screen, con sistema di navigazione satellitare.
Chissà cosa ci aspetta nel futuro, e tu l'hai provata?Cosa pensi possa essere migliorato in questo modello?
Cosa ne pensi tu? Lascia il tuo commento qui